One of the great literary and spiritual treasures of Wales is the hymnody of Ann Griffiths (1776–1805). Born Ann Thomas on a farm called Dolwar Fach near the market town of Llanfyllin in north-east Wales, she was 17 when her mother died and she became the mistress of the farm.
Three years later, after having undergone intense conviction of sin, she was converted in the Methodist Revival that was sweeping northern Wales. Spiritual relief has only happened when she came to see through faith that Christ had died in her stead and for her sins. She had mocked Christians she had seen wending their way to church and revival meetings. "Look at the pilgrims on their way to Mecca!" she had quipped. And now she was one of them.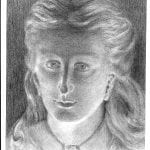 She and her brother inherited the family farm in February of 1804, when their father died. That October she married Thomas Griffiths, which is why she is known today as Ann Griffiths, though for most of her life she would have been known by her surname Thomas. She was soon expecting their first child, a baby girl, who was born July 13 but sadly died just over two weeks later. Ann, who had had rheumatic fever on three distinct occasions, was clearly not strong enough to bear the strain of childbirth for she died two weeks after her baby girl in August of 1805.
She was buried in the parish church cemetery, a stone's throw from the farmhouse in which she had lived her whole life. But as E. Wyn James, an expert on Griffiths' hymnody, has noted, "this brief outline does scant justice to the richness and fulness of her life."
The sum total of her literary legacy amounts to eight letters and 73 hymn stanzas—30 hymns in total. And if it had not been for her friends John Hughes (1775–1854) and his wife Ruth Evans (c.1779–1858), who helped as a maid at Dolwar Fach, we would not even have this. John Hughes wrote a memoir of Ann Griffiths in 1846, forty years after her death, which is the best source we have for her life.
Seven of Ann's eight letters were written to John Hughes between November 1800 and the summer of 1802. We do not have the originals; John Hughes copied them out. The only letter in Ann's hand is to a certain Elizabeth Evans, who may have been Ruth Evans' sister.
As for her hymns, they functioned as a kind of spiritual diary, and were probably not intended to be sung congregationally. Rather they expressed and encapsulated Ann's religious experience. Ann did not copy them down, for, as she told Ruth Evans, "I do not wish anyone to have them after me. I compose them for my own comfort." But Ruth memorized many of them when Ann recited them to her, and encouraged by Thomas Charles (1755–1814), the great Methodist preacher in nearby Bala, to preserve them after Ann's death, Ruth recited them in turn to her husband John Hughes, who wrote them down.
The hymns were probably all written between 1802 and 1804. A small collection of the hymns was edited by Thomas Charles and published in 1806 at a Bala printer. Multiple editions of her work appeared throughout the nineteenth century in Wales, establishing her place as one of the great hymnwriters of the Revival.
To be continued.