My wife and I participated in a triathlon last year. On the ferry to Toronto Island, I kept thinking: "We should have trained properly for this!" We finished, but I felt exhausted at the end of the swim and run portions. It wouldn't have taken much to convince me to quit.
We were unprepared for the race, and we almost didn't finish.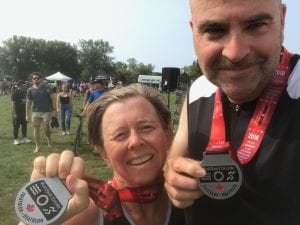 Quit, Get Injured, or Finish Well
We face the same danger in our relationship to God. The writer to the Hebrews compares the Christian life to a race, and warns about the danger of quitting. "Let us run with endurance the race that is set before us," he urges (Hebrews 12:1).
He even explains why some people quit:
Therefore lift your drooping hands and strengthen your weak knees, and make straight paths for your feet, so that what is lame may not be put out of joint but rather be healed. (Hebrews 12:12-13)
People quit because they lose strength and get discouraged. "The picture of 'feeble arms and weak knees' portrays exhaustion, an echo of the spiritual and emotional fatigue with which the writer has already shown concern," George Guthrie observes.
The consequences can be severe. If we're not careful, can injure ourselves. The solution: to create straight paths, free of obstacles and potholes, so that weak, unprepared runners have a chance of finishing without injury.
We face the twin dangers of quitting or damaging ourselves spiritually. The alternative: to pursue God in such a way that we gain strength rather than lose it.
We should aim not only to finish, but to finish healthier than when we started.
God Will Help
We're responsible for how we finish, but we're not on our own. God promises his help.
Hebrews alludes to Isaiah 35:
Strengthen the weak hands, and make firm the feeble knees. Say to those who have an anxious heart, "Be strong; fear not! Behold, your God will come with vengeance, with the recompense of God. He will come and save you." (Isaiah 35:3-4)
We strengthen ourselves as we remind ourselves what God has promised to do.
Our hope isn't in our own strength, or our frantic attempts to finish the race on our own. Our hope is in God. We can finish the race as we remind ourselves of his saving actions.
The Reason for Straight Paths
That's why I'm calling this column Straight Paths. I'm concerned by how easy it is to get discouraged in the Christian life, and how easy it is to quit or injure ourselves spiritually. I'm concerned by how many, including pastors, do this. We can't assume that we will finish well (1 Corinthians 9:27).
I'm obsessed by the idea of running after Jesus and gaining strength as we do so. I admire people who seem to grow more spiritually healthy and alive the farther they go.
So I want to explore this. I'm sure I'll get off topic occasionally, but I want to write about what it looks like to finish well spiritually and to help others to do the same.
I can't wait to explore this theme, and more importantly, to live it. I hope you'll join me.